Get the latest information on classes and events.
Japanese Cooking Series - Course 4: Sushi
Have you ever wondered how to make perfect sushi rice? If so, then join us for our sushi making class and learn not only the rice cooking process but also how to prepare everything you need to make temaki hand-rolls and maki sushi. Lunch will be provided.
Aprons, kitchen towel and other personal items can also be brought to class. As a safety precaution participants must wear a face mask, covered shoes and long pants.
Date: Saturday, May 15
Time: 8:00 am - 1:00 pm
Location: Windward CC, Hale Akoakoa Cafeteria
Fee: $95
SOLD OUT.
For waitlist email
wccocet@hawaii.edu
Pastry and Baking Series: Yeast Breads
More and more people are making their own yeast bread at home and it need not be complicated. Join us for a demystification of the challenges of Yeast Breads as you make Ciabatta, French Baguettes, Italian Focaccia and Cinnamon Rolls. Learn some simple tricks to elevate your bread making skills or learn to make your fist loaf of bread. Bring some take home containers because you will take home loads of goodies. Lunch will be provided.
Aprons, kitchen towel and other personal items can also be brought to class. As a safety precaution participants must wear a face mask, covered shoes and long pants.
Date: Saturday, May 22
Time: 8:00 am - 1:00 pm
Location: Windward CC, Hale Akoakoa Cafeteria
Fee: $95
SOLD OUT.
For waitlist email
wccocet@hawaii.edu
If you are looking for a great opportunity to get out of the house and experience some hands-on learning, check out Windward Community College's Baking Camps. Perfect for yourself, family and friends, we welcome anyone over the age of 11 (minors need parental consent), all you need is an interest and passion for all things baking.

This three-day camp will cover favorites for any baker enthusiast. Day 1: pies, Day 2: cakes, and Day 3: yeast breads. Students will focus on learning, planning, organizing and executing traditional recipes to add to their skill set. In our baking camps students will learn the fundamental techniques that will lead to a lifetime of success in baking. Skills in making pastry dough for a variety of pies and cobblers, cakes and yeast doughs used to make a variety of fresh breads. Please bring your own containers, bags and/or boxes to take your products home.

Classes are not vegan, vegetarian or gluten free. Lunch will be provided. These classes and camps fill up fast so register early. If your class is full, please join our wait list and we will let you know if an opening comes up.

SAFETY GUIDELINES
As a safety precaution participants must wear a face mask, covered shoes and long pants.
Only the student will be allowed to attend the course. Students may have one chaperone who can wait for them in an area that allows for them to follow social distancing guidelines.

Date: Monday, Tuesday, Wednesday, Jun 7, 8 & 9
Time: 8:00 am - 1:00 pm
Location: Windward CC, Hale Akoakoa Cafeteria
Fee: $285

Date: Monday, Tuesday, Wednesday, Jun 21, 22 & 23
Time: 8:00 am - 1:00 pm
Location: Windward CC, Hale Akoakoa Cafeteria
Fee: $285
CONTACT FORM - WAIT LIST & QUESTIONS
If you would like to be put on a wait list for a specific class or have a question please fill out the contact form below.
Please join our mailing list for all general class notifications.
Daniel Swift has worked in the restaurant business since 1985 when he started washing dishes in high school. He is a graduate of Boise State University's Culinary Arts Program and Johnson and Wales University's Baking and Pastry Arts program in Providence, Rhode Island. He has worked as a chef for top hotels such as the Ritz-Carlton Kapalua, Kahala Mandarin Oriental, The Westin Seattle and the Hilton Hawaiian Village.

He began teaching in 2002 and earned his Masters Degree from the University of Hawaii at Mānoa in 2005. He has taught Culinary, Baking and Pastry and Hospitality courses for the last 16 years at 5 different colleges and universities, including the Collins College of Hospitality Management, Chaffey College, the William F. Harrah College of Hotel Administration in Las Vegas and professor of food and beverage at the Culinary Institute of the Pacific in Honolulu, Hawaii. Currently he is the culinary coordinator of the Hiilaniwai Foodservice Innovations Training Program at Windward Community College in Kaneohe, Hawaii.

Daniel earned his doctorate in Organizational Leadership from the University of Laverne in California in 2017. He is a Certified Master Baker through the Retail Bakers of America and hold certifications with the American Culinary Federation as a Certified Executive Chef, Certified Executive Pastry Chef, and Certified Culinary Administrator.
Salvatore Coppola was born in Trieste, Italy, Salvatore Coppola attended the Amerigo Vespucci Culinary Institute in 1984, where he graduated with a culinary and hotel management degree and went on to work around Europe.

From 1988 to 2011, chef Salvatore was invited to be the executive chef of Princess Caroline of Monaco, daughter of American actress Grace Kelly. He led the kitchen staff of the crown's private properties in France, Austria and northern Germany. Coppola recalls that the crown requested "simple, but high quality" food in its daily meals. He was allowed to take as much time as he needed to ensure that food would be served up to the family's standards.

Coppola moved to Hawai'i in 2011 and joined Gros Bonnet Culinary Academy, a private culinary school in Honolulu for two years. He is currently a chef instructor at Kapi'olani Community College since 2016, in 2018, he became a professor for the State of Hawai'i Apprenticeship Program, aimed at all those who wish to learn how
to cook or improve their skills.
Thelma Vasquez Howland
has been a semi-professional cake decorator for over ten years, maintaining a professional presence in higher education in administrative roles at Loyola University, UC Berkeley and now the University of Hawaii. She has taught decorating classes to 500+ students and enjoys cookie design and teaching sugar art techniques.
Thelma is a passionate baker who grew up immersed in Mexican-American cuisine with the influences of classic American fare. This created a deep appreciation and distinguished palette for both which has informed the designs and influences of her phenomenal bakery creations.
Trained in the Wilton Method at their Illinois corporate headquarters, she soon translated those experiences into participation in local design competitions and shows in the Bay area of California where she spent the better part of 12 years honing her craft. Thelma won Best in Show on multiple occasions at the Marin County Fair while helping chair and lead an annual Contra Costa Cake Show where several nationally acclaimed bakers, chefs and designers appeared to judge, demonstrate and teach courses.
As the California ICES (International Cake Exploration Societe) member and former state representative, she continues to participate in promotion and proliferation of the bakery and sugar arts. She manages her own cottage based business called Thelma's Sweet Treats where she offers an assortment of bakery items and services. Contact her at
thelmasweetreats@gmail.com
John McGough
received his Patisserie & Baking Certificate from Le Cordon Bleu College of Culinary Arts in Las Vegas, Nevada. He has over 20 years in the restaurant industry as a chef, pastry chef, baker's assistant, pastry cook, cook and restaurant manager at notable restaurants in Las Vegas, Honolulu/Waikiki.
John is the owner/pastry chef of Hau'oli Pastry Company where he prepares customized dessert menus for a la carte dining, banquets and special functions.
Noe Puaauli is a Hawaiian cultural education specialist. Noe was co-creator of a healing garden and 'āina based program and curriculum. She developed and taught cultural curriculum relevant to nursing and healing, has cultural understanding of utilizing food as medicine, designed a cultural garden which incorporates lā'au lapa'au, lo'i kalo and other pertinent native plants important to cultural practices and traditions. She currently works at the Uala Leaf Cafe at WCC as an Education Assistant.
Stephen Maeshiro is Chef and Education Assistant for Uala Leaf Cafe at Windward CC. Steve brings over 25 years of culinary skills and knowledge. He has honed his palette and kaiseki skills working alongside top named chefs at some of Honolulu's notable Japanese restaurants in Waikiki specializing in preparation of washoku, traditional and regional foods of Japan.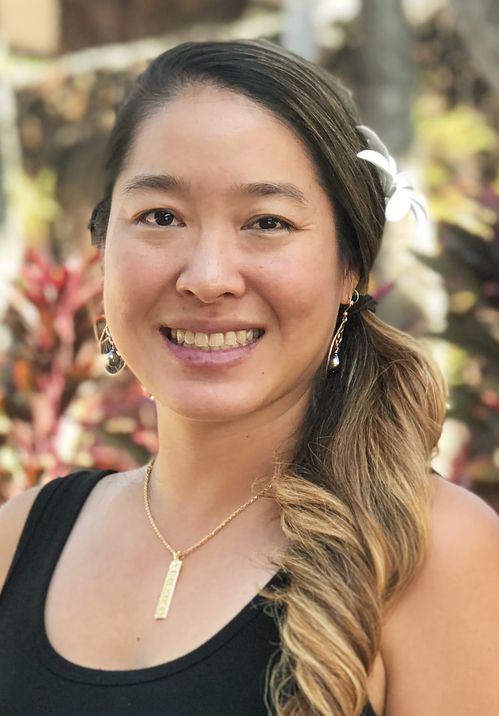 Alice Wu Swift
is a Multimedia Instructional Designer for the University of Hawai'i System and Owner of Swift Hospitality Consulting, L.L.C.

Alice Swift has 15+ years of hospitality, food and beverage experience. She has worked in various restaurants and hospitality organizations in California and Las Vegas, obtaining sommelier certifications: SWE Certified Wine Specialist, WSET Level 3, CMS Level 1. She has a passion for teaching and learning with the use of innovative and engaging educational technology, teaching part-time online for UNLV's hospitality program. After receiving her Ph.D. from UNLV's William F. Harrah College of Hospitality in 2016, she relocated from Las Vegas to O'ahu.
She currently works for the University of Hawai'i System as a multimedia instructional designer, and operates Swift Hospitality Consulting business catered to companies seeking instructional/curriculum design, development, and training. Alice also maintains her beverage industry ties, teaching local community classes, and is the beverage journalist for WineTalk, a monthly column for the Las Vegas Food & Beverage Professional magazine since 2011.