Open enrollment
Oʻahu residents who are struggling to find employment due to the COVID-19 pandemic can enroll in free job preparation classes at the University of Hawaiʻi Community Colleges.

Need help training for a new job?
Browse our offerings.
Family Child Care Essentials
Open enrollment with classes starting weekly. (online)
Learn how to become a child care provider in your home.
Digital Media and Marketing
Oct 4-Nov 5 - Graphic Design for Small Business: Print to Web (online)
Oct 4-Nov 5 - Introduction to Web Design (online)
Oct 4-Nov 5 - Intermediate Web Design (online)
Oct 18-Nov 19 - Data Analytics Basics (online)
Nov 3-Dec 3 - Social Media and E-Commerce (online)
Explore the digital industry.
Sep- Nov at select Public Libraries (in-person)
No computer experience, no problem. Join us for this FREE 3-hour introductory hands-on class designed for adults.
Recreational Thrill Craft Operator Safety Education
Oct 7 (online)
Oct 20 (online)
Got ski? Get certified and learn to ride safely and legally in Hawaiian waters.
Weekly classes
Get ready for more fun in the kitchen this fall.
Sep 20-Nov 19 (online)
This course prepares you to take the national certification exams.
Meals with a Mission Help Students Succeed
Help us raise $25,000 by September 25, 2021
Meals prepared on campus by chef Dan Swift and the Uala Leaf Café staff help Meals with a Mission program combat food insecurity and promotes student success.
WCC voted Hawaiiʻs Best in two categories!
The people have voted Windward Community College Hawaiiʻs Best in two categories:
First Place in
Career & Technical Education
,
First Place in Tutoring Center for
TriO Student Success Services
"Mahalo for voting! This is a real win for the college. People love us and we won their hearts," said Bonnie Beatson, marketing director.
Coming to campus? Check-in with UH LumiSight UH app
Download the
LumiSight UH App
that will allow users to complete their health self-screening, upload vaccination cards, and COVID-19 test results from a mobile device. Available at the Apple App Store and Google Play Store. Free.
Find more information about UH COVID-19 topics at the UH website. Email
COVID19@hawaii.edu
if you have any questions.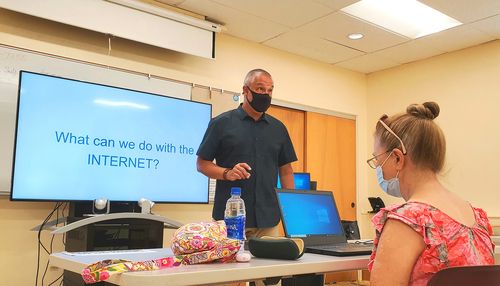 Free digital readiness classes at Hawaii State Public Libraries extended
"Our public libraries are hubs for free access to internet connectivity, technology and opportunities for life-long learning. We're a great place to start and look forward to welcoming our communities to build their 21st Century digital literacy skills at the library," said Stacey Aldrich, state librarian for Hawaiʻi's public library system.
Did you know that
Windward Community College
opened its doors in September 1972? We look forward to sharing memories over the year starting in Fall 2021 through Fall 2022. We are seeking memorabilia, photos, or stories from alumni and the Windward community.
Memories can be sent to:
Bonnie Beatson, marketing communications director
beatson@hawaii.edu
Receive the latest updates on classes and events.
We'd love to hear how we can help you.